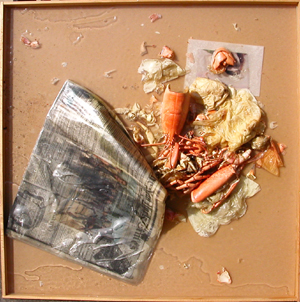 From "Offal" at Dam Stuhltrager Gallery, NY 2003. Breuk and collaborators made off with detritus from all the gallerys in Williamsburg. For my part, I drove the getaway van & set loose a photog friend (Andrzej Bialuski) to take portraits of the gallery owners, with the cover story that I was to write a future piece for a newspaper. The only restrictions were that he was not to consciously frame the pictures.

Portraits and garbage were later polyurethaned to 2' x 2' frames.

It was awful. Stinky and toxic.